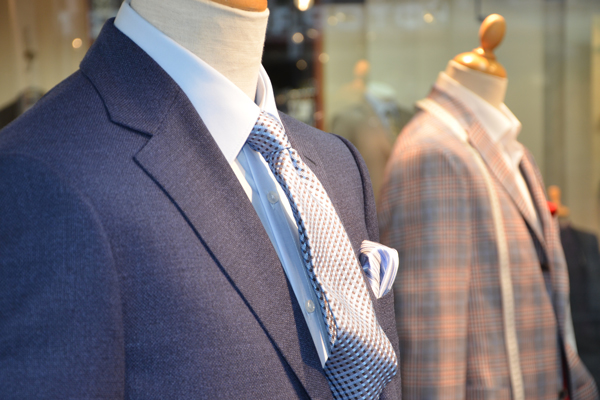 "Fashion Knowledge Series" are the articles about origin, history and details of business suite and clothes with coordination rules.
The first article is about "Single Tailored Jacket" which is familiar to men from business suit to casual fashion.
Collar
Gorge line
Lapel (Under Collar)
Lapel hole
Breast pocket
Front darts
Pocket
Hems
Sleeve button
Golden Rules of Fitting
Jacket (Business suit) should be just fit since it could be unbalanced and rustic if you decide by your taste.
①Shoulder width

First of all, the shoulder width has to be correct in order to fit. This can't be adjusted later so please be sure to verify.

②Chest circumference

Circumference of chest is also an important index to decide size.

③Waist circumference

To be just fit, you should be able to put your fist between your stomach and the jacket.

④Jacket Length

For business suit, the basic is the half of total length (from the ground to back neck point : lower line of upper collar on the back.) For casual style such as mixed style with different jacket and pants, you can make it little shorter (-2,3cm) to have sharp image.

⑤Sleeve Length

The best length of a dress shirt is 11,12 cm from the tip of the thumb. Both longer or shorter will be awkward. (Of course you need to fit the shirt, too.)
You must select the jacket with correct shoulder width and sleeve length. There are shops that has its own standards like sleeve length is 9cm from the tip of the thumb, so you need to be careful.
Variation of details
Front buttons

There are variation of the number of button. There are mainly 3 patterns.

| | | |
| --- | --- | --- |
| | | |
| 2 Buttons | 3 Buttons(Roll down) | 3 Buttons |

For 2 button, you button up only the upper one ;for 3 button only the middle one. Between 1st and 2nd (3rd) button is usually 10.5cm. There could be a variation that all button goes rather upper or lower which changes the balance of V zone and hems.

Shoulder

The variation of shoulder shape.

| | | |
| --- | --- | --- |
| | | |
| Natural Shoulder | Rope shoulder | Square shoulder |

Rope shoulder has sleeve head that rises above the natural line of the shoulder. Square shoulder has a pad inside. Recently the trend is rather natural and thin shoulder.

Lapel

It's the turned-back bottom collar. This width changes impression. The size of a will be the lapel width and usually it's 8 to 8.5cm.

| | | |
| --- | --- | --- |
| | | |
| Peaked lapel | Peak rounded lapel | Shawl collar |

Normal type is called notched lapel. Peaked lapel is a design used usually for double breasted jacket but also for single (not suitable for business). Shawl collar is the form used for tuxedo.

Gorge line

This is the connecting part of collar and lapel. It changes impression with its hight (position) and angle like the lapel width.

Pocket

Basically, one with piping is more dressy (formal) design. Also, it usually has flap.

| | | |
| --- | --- | --- |
| | | |
| Slant pocket | Patch pocket | Ticket pocket |

Slant pocket is literally a slanted pocket and the horse riding coat which is the origin of suit has slant pocket. Patch pocket is a attached pocket used for casual jacket. Change pocket is a small pocket added above right pocket and is called so since people used to put change here.

Front darts

This is the tuck to thinner the waist and have three dimensional silhouette.

Vent

This is the cut on the back. Single jacket has horse riding coat as its origin and this cut was made to smoothen front side to flow when riding a horse.

| | |
| --- | --- |
| | |
| Center vent | Side vent |

The basic for single is center vents, for double is side vent but there are single with side vent. Tuxedo is fixed with no vent without slit.

Hems

Form of front skirt has several variations.

| | |
| --- | --- |
| | |
| Round cut | Square Cut |

The one with deeper and round cut compared to standard is the round cut and the cut with square is square cut. (In the Japan form) It is called cut away when it is cut deep to the edge and become the form of morning coat.
There are more details. With knowledge, you can choose the one that fits you best in the shop so please make use of it.