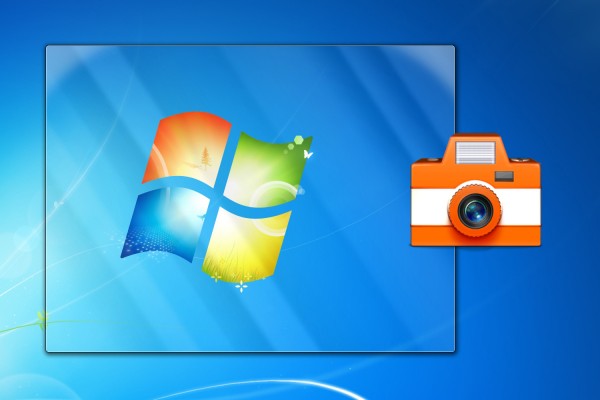 SnapCrab is recommended if you quickly capture a specific window. Especially it can capture neatly Aero Glass of Windows 7, Vista. It has other convenient features and plugin for web page capture. I will introduce it because it's very useful.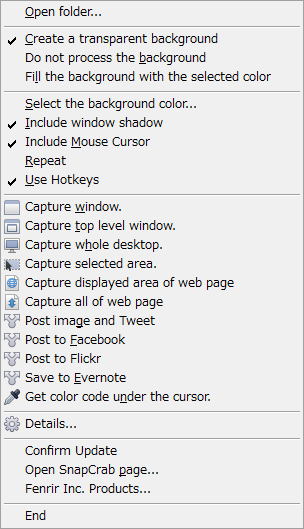 When starting application, icon will appear on the notification area at task bar (right-bottom of Desktop), and when clicking, the menu will appear like above image. You can select capturing menu "window", "top level window", "whole desktop", "selected area". For use "Capture (displayed area of or all of) web page" you must install Sleipnir that a browser developed by same company or install "SnapCrab for IE" that a plugin for IE.
When use other capture software, these can't capture to the edge of window often. But SnapCrab can capture to the edge of window and it can output a part of Aero Grass as semi-transparent PNG, you can decide in advance the background color of the transmission part, and you can select include or not shadow.
It is also a good feature not the area is captured soon with the click of a two-point but you can fine-tune the gray rectangle that generated by the click and drag before the capture. (when selecting area) And also good it can use the serial number when saving file. I recommend this tool for high quality capturing to efficient.
(SnapCrab also have the functions that coordination to Facebook, twitter and Evernote, and Color picker.)
Under images are Preference screen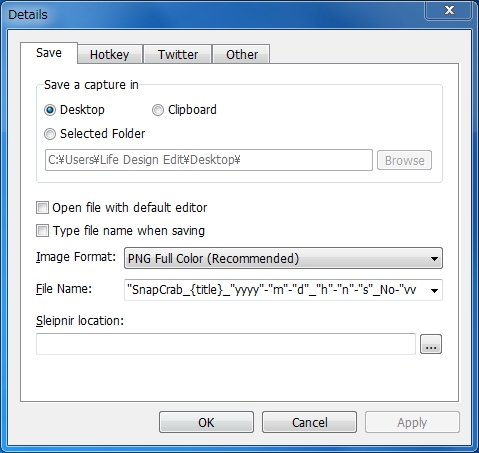 Character of "vv" at "File Name" option become serial number at saving file.